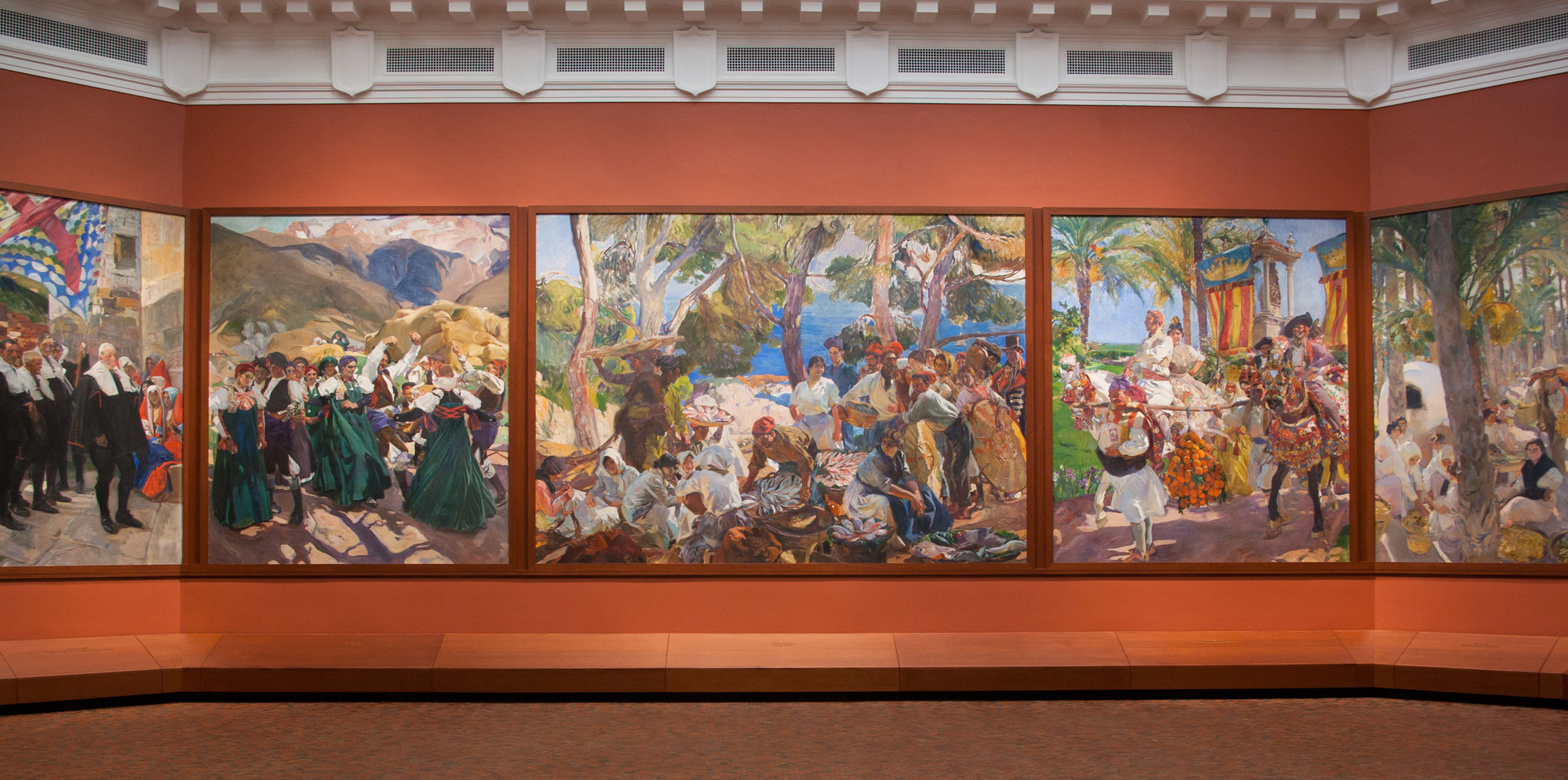 Joaquin Sorolla: Vision of Spain Gallery
VISIT SOROLLA
The gallery recently has not been open to the public due to the current renovations to the Hispanic Society's main building. However, the completed reconstruction of the landmark copper roof has made it possible for the Sorolla Gallery to be opened again on a limited basis. Starting on September 17, 2019, the Gallery will open Tuesdays and Thursdays from 10:30am- 4:30pm, by appointment only.
Free guided tours of the Gallery are offered in English or Spanish.  For more information, and to book a tour, please contact us using the form below.
FORM COMING SOON – IN THE MEANTIME, TO BOOK A TOUR PLEASE E-MAIL VISITSOROLLA@HISPANICSOCIETY.ORG
ABOUT THE GALLERY
The gallery houses the monumental series of 14 paintings known as Vision of Spain by the Valencian master Joaquín Sorolla y Bastida, the preeminent artist in Spain at the turn of the 20th century. Archer Milton Huntington, founder of the Hispanic Society, commissioned the paintings in 1911 for a new gallery to be built on the west side of the main building. Sorolla already had been the subject of two enormously successful traveling exhibitions in the United States organized by the Hispanic Society in 1909 and 1911. The 1909 exhibition alone attracted some 160,000 visitors to the Hispanic Society in a period of one month.
Nearly 12 feet tall and 200 feet in combined length, the canvases that comprise Vision of Spain were painted by Sorolla at various locations in Spain between 1912 and 1919. Within the gallery the viewer is surrounded by the peoples, costumes, and traditions of various regions of Spain. Both Sorolla and Huntington noted that the series represented a Spain that was already "on the point of disappearing". Unfortunately, the paintings that Sorolla considered his greatest work were not inaugurated at the Hispanic Society until 1926, three years after the artist's death.
All of the canvases were restored in 2006-2007 prior to an exhibition tour in Spain. Sorolla's Vision of Spain was exhibited in Valencia, Seville, Málaga, Bilbao, Barcelona, and Madrid between November 2007 and February 2010. Never before on public view in Spain, Sorolla's masterwork created a sensation that attracted over 2,000,000 visitors, making it the most visited exhibition in Spain's history. The fully renovated Sorolla Vision of Spain Gallery was inaugurated in 2010 upon the return of the paintings.