Concert Series 2018-2019: "Joaquín Rodrigo: An Anniversary Celebration-The Guitar and Beyond"
Season in Review
The series "Joaquín Rodrigo: An Anniversary Celebration-The Guitar and Beyond" forms an important part of a city-wide festival focusing on Maestro Rodrigo and his music, including an international symposium at NYU and the Foundation for Iberian Music at the CUNY Graduate Center with independent scholars and musicologists. The Concert Series features three performances, each preceded by lectures devoted to compositions by Joaquín Rodrigo (1901-1999).
December 6, 2018 | April 4, 2019 | May 2, 2019. American Academy of Arts & Letters
This program is supported, in part, by public funds from the New York City Department of Cultural Affairs in partnership with the City Council , Spain Culture New York-Consulate General of Spain and New York State Council on the Arts.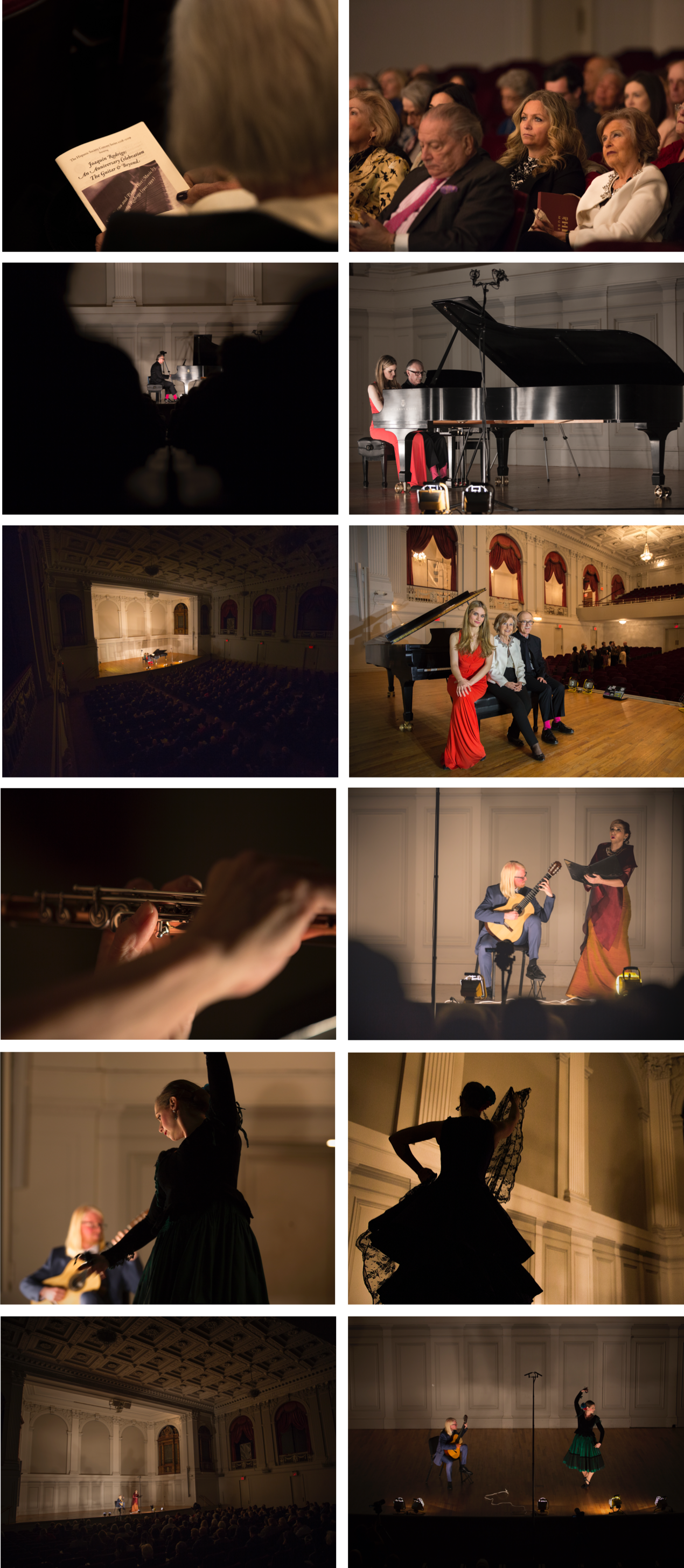 December 6, 2018
Joaquín Rodrigo: An Anniversary Celebration. The Guitar and Beyond: Chamber Music| Eva León, violin, Thomas Mesa, cello, Olga Vinokur, piano
Program
Set Cançons Valencianes (Seven Valencian Songs)
Allegretto
Andante moderato
Allegro
Andante moderato e molto cantabile
Andantino
Andante religioso
Tempo di bolero. Moderato
Eva León, violín |Olga Vinokur, Piano
Sonata a la breve
Adagietto
Scherzino
Allegro ma non troppo
Thomas Mesa, cello |Olga Vinokur, piano
Rumaniana
Eva León, violin | Olga Vinokur, Piano
Siciliana
Thomas Mesa, cello | Olga Vinokur, piano
Sonata pimpante
Allegro
Adagio, Allegro vivace, Adagio
Allegro molto
Eva León, violin | Olga Vinokur, Piano
Approximate Duration:  60 minutes
April 4, 2019
Joaquín Rodrigo: An Anniversary Celebration. The Guitar and Beyond: Solo Piano and Piano Duet Music  | Douglas Riva, Isabel Pérez Dobarro
Program
Sonatina para dos muñecas  (Sonatina for Two Dolls)
Empieza el día, (The Day Begins)
Alegres peripecias (Happy Adventures)
Recogimiento (Quiet Time)
Vuelta del Cole (Back from School)
Douglas Riva | Isabel Pérez Dobarro
A l'ombre de Torre Bermeja (In the Shadow of Torre Bermeja)
Danza de la amapola (Dance of the Poppy)
Douglas Riva
Serenata Española (Spanish Serenade)
Isabel Pérez Dobarro
Cuatro estampas andaluzas (Four Andalusian Scenes)
 El vendedor de chanquetes (The Chanquetes Seller)
Crepúsculo sobre el Guadalquivir (Twilight over the Guadalquivir)
Seguidillas del diablo (The Devil's Seguidillas)
Barquitos de Cádiz (Little Boats in Cádiz)
Douglas Riva
Juglares (Minstrels)
Isabel Pérez Dobarro | Douglas Riva
 Cuatro piezas para piano (Four Pieces for Piano)
Caleseras, Homenaje a Chueca (Homage to Chueca)
Fandango del ventorrillo (Fandango in the Tavern)
Plegarias de la Infanta de Castilla (Prayer of the Princess of Castile)
Danza valenciana (Valencian Dance)
Isabel Pérez Dobarro, piano
Gran Marcha de los Subsecretarios
A buen andar pero sin prisa (At a good tempo but without any hurry)
Trio—Tempo ministerial (At a governmental tempo)
Isabel Pérez Dobarro | Douglas Riva
Approximate Duration:  60 minutes
May 2, 2019
Joaquín Rodrigo: An Anniversary Celebration. The Guitar and Beyond: Music for Guitar, Voice, Flute and Dance | Anna Tonna, mezzo-soprano; Svjetlana Kabalin, flute; Anna de la Paz, dance; Federico Díaz, guitar
Program
En los trigales [In the Wheat Fields]
Junto al Generalife [Close to the Generalife]
Entre olivares [Within an Olive Grove]
Federico Díaz, guitar
Pequeña sevillana [A Little Sevillian Dance]
Anna de la Paz, dance | Federico Díaz, guitar
Dos poemas de Juan Ramón Jiménez [Two Poems by Juan Ramón Jiménez]
            Verde, verderol [Green Finch]
Pájaro del agua [Bird of the Water]
Anna Tonna, mezzo-soprano | Svjetlana Kabalin, flute
Coplas del pastor enamorado [Ballad of the Shepherd in Love]
Svjetlana Kabalin, flute | Federico Díaz, guitar
 Invocación y Danza—Homenaje a Manuel de Falla [Invocation and Dance—Homage to Manuel de Falla]
Federico Díaz, guitar
Tres canciones españolas [Three Spanish Songs]
En Jerez de la Frontera [In Jerez de la Frontera]
Adela
De ronda [Courting]
Anna Tonna, mezzo-soprano | Anna de la Paz, dance | Federico Díaz, guitar
Cuatro canciones sefaradíes [Four Sephardic Songs]
Respóndemos [Answer Us]
Una pastora yo amí [I Love a Shepherdess]
Nani, nani [Lullaby]
Morena me llaman [They Call Me the Dark One]
Anna Tonna, mezzo-soprano | Federico Díaz, guitar
Aranjuez, ma penseé [Aranjuez, My Thought]
Anna Tonna, mezzo-soprano | Svjetlana Kabalin, flute | Anna de la Paz, dance | Federico Díaz, guitar
  Approximate Duration:  60 minutes